After a few leaks (most notably the capture of the red Z71-spec Silverado with the hood popped between photo shoots by Chris Dunne/Brenda Priddy a few weeks ago), GM has formally released photos of their all-new bread and butter, the Chevy Silverado and GMC Sierra. These all-new trucks share the GMT-900 platform with the 2007 Tahoe/Yukon/Suburban/Avalanche, and the platform itself was brand new in early 2006 (2007 model year) when the SUVs were introduced.

The Silverado is the second-best selling vehicle in the US (behind the Ford F-150) and although sales have remained strong over the past few years, the all-new F-150 introduced in 2004 and the revised Dodge Ram introduced this year have caused the previous-generation Silverado/Sierra to be less competitive in terms of refinement and capabilities.

I think the new trucks look great. The looks of the Chevy have grown on me, but I still think that it looks a little too much like a Colorado on steroids, but the GMC is definitely the "looker" of the two. The "luxury" versions of the trucks basically have the same interior as the SUVs, but the pickups also offer a "work truck" dash with certain models that does not have the integrated console and is more squared-off and "tough" looking. I think more choice for buyers is only going to help sales, and offer a less car-like, more utilitarian option for the interior.

The only body panels that these trucks share with their SUV cousins are the doors and greenhouse; taillights, bumpers, fenders, hoods, and grilles are all unique to the pickups, and are much more squared off than the sleek appearance that the SUVs have. Here are a few of my favorite shots, with my commentary. :)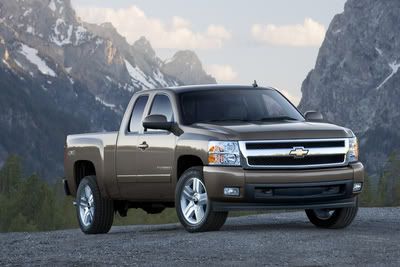 Silverado Extended Cab 4x4
I think this is the most attractive variant of the Silverado, because it doesn't have the extra chrome at the top of the front bumper below the grille like the Z71 has. I'm not crazy about this color, however.

Sierra Crew Cab 4x4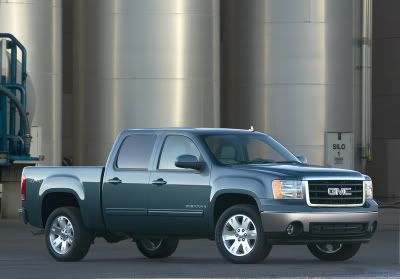 This is my second-favorite style of these pickups, behind the Sierra Denali. I really like the color in this one, and my favorite part of the front end style is the brushed nickel treatment covering most of the front bumper. I also prefer the GMC's more conservative fender bulges to the Silverado's more pronounced ones.


Silverado Crew Cab Z71 4x4
The Z71 package on full-size GM trucks is the off road-ready variant. They generally have a little more style than their non-Z71 peers, and also have larger wheels, off road tires, underbody skid plates, a higher ground clearance, etc. This red truck is the one that was caught first (with the hood popped) by Chris Dunne/Brenda Priddy and it looks a lot better with the hood closed! I'm not crazy about the chrome at the top of the bumper below the grille, or the black door handles. The first Silverado picture, above, has body color door handles, which look much better. I would have preferred to see the monochromatic Z71 treatment in the new trucks that the previous-generation Tahoe/Suburban had.

Sierra Denali Crew Cab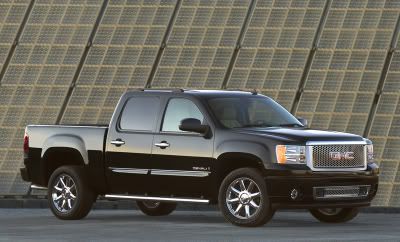 If the past is any indication, the only version of the Sierra available in Denali trim is the crew cab. These trucks are often the vehicle of choice for professionals like architects and engineers who need occasional on-the-job utility, but want a comfortable cabin with all the amenities like leather seats, Bose stereo with XM, rear seat DVD screen, etc. I think the chrome grille looks great on the Denali. With its more attractive front clip compared to the Yukon Denali, I wonder how long it will be before some industrious folks bolt a Sierra Denali front clip onto a Yukon. THAT would look sweet!


Chevy Silverado "Work Truck" Interior
The style is very similar in initial appearance to the outgoing GMT-800's dashboard, but you can see that it's more stylish and better materials have been used in the new one. For customers who need more utility and less of a car or SUV feel in their pickups, I'm glad that GM offers this alternative. I like the scoop-outs for the ancillary gauges (left and right sides of the gauge cluster) - that adds some interesting angles to an otherwise conservative dash design.

GMC Sierra Denali Interior

This content of this photo appears to be almost identical to the photos released in early 2006 of the Yukon Denali's interior. I loved it then and I like it now. I wish the steering wheel didn't have plastic wood on it - but hey, even the 2007 Cadillac Escalade has that! I particularly like the blue tint to the gauges...very modern and classy!